Crazy House by James Patterson and Gabrielle Charbonnet
Published May 22nd 2017 by Hachette Book Group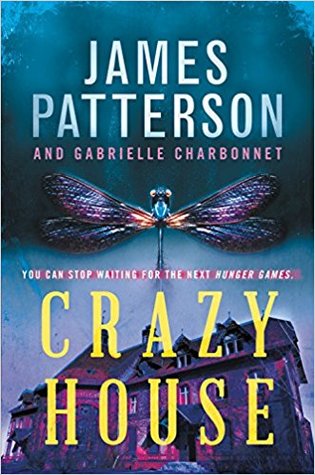 No one gets out alive.

Seventeen-year-old Becca Greenfield was snatched from her home and thrown without reazon into a hellish prison known as the Crazy House. To avoid execution, she's told to shut her mouth and keep her head down.

Becca was never really good at either.

Her only hope for survival is for her sister, Cassie, to find her—that the "good twin" will stop following the rules and start breaking them, before it's too late. Because the jailers at Crazy House soon discover they made a mistake that could get both sisters killed…
DISCLAIMER: I love James Patterson, he is definitely my most owned author. When I saw Crazy House on NetGalley I jumped at the chance to request it. But my impatience got the better of me and I rushed out and bought the hardcover as soon as possible. Whats more it is YA dystopia… and that is my jam. 
The book is set in the future where people live in fenced self-contained towns called cells. Each being in charge of a different sector, in the case it was agriculture (think Hunger Games districts). The plot follows two twins Cassie and Becca, both raised in the cell, having no knowledge of life outside.
When Becca vanishes Cassie will do everything in her power to find her sister, in turn setting the wheels in motion for something much bigger.
I loved the dual points of view and really enjoyed the relationship between the twins. It was nice to read a book that was equally plot and character driven. As a bonus to the heavy dystopia vibe there was also minimal romance, which is a big win for me.
The story was perfect parts intrigue with out being overly complicated. I enjoyed the simple writing style and it was a great pallet cleanser between heavy reads.
I just loved this book. It was perfect me and exactly what I look for in a book. I think this is a stand alone but I would love for there to be a second!!
Overall it was a strong 4.5 STAR read.
You can check out the authors… HERE & HERE
Thank you NetGalley, Hatchette Book Group, James Patterson and Gabrielle Charbonnet
---
Don't forget to share your thoughts in the comments section below & follow for more content
You can find my other reviews…. here
THANK YOU FOR READING