The Circus by Olivia Levez
Release date; June 13th 2017 by Oneworld Publications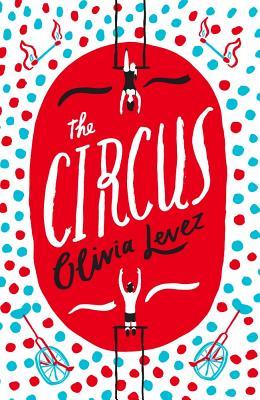 Why would a girl who has everything want to run away and never be found?

Willow has staged runaways ever since she was a little girl. She has everything a young person should want: a rich daddy, clothes, money, a pony and a place at a prestigious boarding school. In reality, she has everything except the thing she really wants: a father who cares enough to find her.

Aged sixteen, on the eve of her father's wedding, she ruins the bride's dress and escapes through a window, determined never to return. Her missing mother was a circus performer, and Willow wants to follow in her footsteps. But the performers she meets don't want her. When her last bit of money is stolen by Suze, another runaway girl she thought she could trust, Willow becomes really homeless. Then Suze comes tumbling back into her life and a desperate Willow has to decide whether to trust her all over again . . .

So begins their frightening, exhilarating odyssey though hunger, performance, desperation and dreams. Will they both survive and will Willow make it to the circus of her imagining?

Olivia Levez takes you into the very heart of a girl who wants so hard to be lost, but saves herself through a powerful friendship and the awakening of a need for home.
Before I started this book I didn't read any other reviews or do any research… I often don't. I like to be surprised and don't want anyone elses opinions clouding my judgement. So when I started The Circus I imagined it to be a whimsical, magical tale set decades ago, possibly in Eastern Europe or Russia… kind of Night Circusey.
I was very very wrong, as the description describes (the description is very informative, prehaps too much, so I wont go over what it says again), it is a coming of age contemporary about a 16-year-old runaway.
This book gave me ALL the feels and took me on an unexpected emotional rollercoaster.
Willow was a tricky and multi-sided character. The whole book is told from Willows perspective and so From very early on in the book you have to learn to translate what Willow is saying, as to what is the truth or what is her interpretation of things.
*I have so much to say about Willow I am frantically typing and trying to organise my thoughts as quickly as possible!*
Willow has a very young mind and I found her to be very fragile and naive. But I found myself feeling for her massively, I wouldn't say that I liked her but I did care and desperately powered through the book to see what was going to happen. It is clear from the outset that there she does have a mental condition, this later turns out to be depression and anxiety, however I believe there is something more their, her view of the world is a little too off.
Her dad is a jackass. And as a mother I found certain parts of this very hard to read. Essentially she is a little girl who just wants some attention from her dad, who has emotionally neglected and essentially forgotten about her for the whole of her life. With no mother Willow desperately wants a family, and her dads new bride, who she calls The Handbag, is getting in the way of her and her dads wonderful future. But is the Handbag that bad? is she what she seems?
Willow and Suz have such a hard and bitter-sweet friendship, the most touching moments being towards the end of the book when they have a complete total role reversal. I found Willow's whole journey from beginning to end so heartbreaking and yet heart warming.
The writing was so easy and the story, although jumpy and erratic at times took me 2 evenings to read , I finished the book last night and still have no idea how I feel about it, so I am giving it 3 starts for now, but that will probably change, and the review added to as I gather my thoughts.
You can check out the author… HERE
Thank you NetGalley, Oneworld Publications and Olivia Levez
---
Don't forget to share your thoughts in the comments section below
& follow for more content
You can find my other reviews…. here
Thank you for reading
Bookpolar
XXX