Defy the Stars by Claudia Gray
Release Date; 4th April 2017
To set the scene Defy the Stars is set in the future. At a time where Earth, after ruining their own planet, are now trying to take over other planets. There are a handful of habitable planets in the know galaxy and all separated by big ole metal gates in the form of loops. These loops allow people to travel from planet to planet.
The story is centered around Noemi. Noemi, an orphaned teenaged girl has volunteered to take part in a suicide mission to render the gate separating them selves on the lush planet of Genesis and Earth unusable. Therefore ending a century long conflict, the same conflict that killed her family.  During a practice run of the suicide mission Noemi's best and only friend runs into trouble. Desperately trying to save her life Noemi boards an abandoned spacecraft, where she finds Abel. Abel is a one of a kind super duper, all in one mech (an Earth built robot) built for an extraordinary purpose, who has been stranded in outer space awaiting rescue for over 30 years.
I don't usually like super sci-fi spacey books but after enjoying Illuminae I figured I should explore the genre some more. However the book did have hints of speculative fiction and notes of dystopia, which are my usual auto buys.  I didn't know a whole bunch about the book before I started. I am familiar with Claudia Gray's writing and thoroughly enjoyed A Thousand Pieces of You.
Anyway, I digress. With Noemi boarding the ship she now has 'authority' over Abel, and off they go to travel the universe and save Genesis.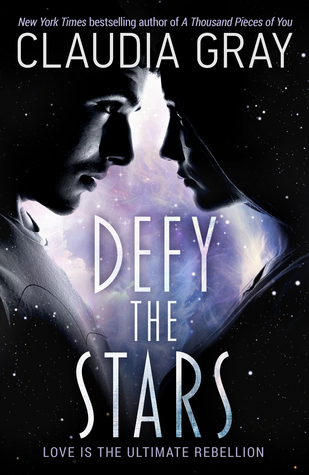 The book is written from both Noemi and Abel perspectives. It was really refreshing to hear the same story from two different points of view. Abel being a machine, beginning to develop and trying to understand his growing feelings for Noemi was a great interesting read. All the simplist feelings that we experience everyday were broken down to a really basic level as Abel tried to grasp what was happening. But also Noemi's point of view as she begins to realise that maybe Abel isn't just any other mech.
Noemi was a great female lead character. She was selfless, adventurous, caring and brave. Ultimately everything I would love to be. For Noemi this was a daring and desperate physical journey. For Abel it was an emotional journey of discovery, from only knowing his creator and being alone in a room for 30 years with nothing but his own thoughts to sharing an adventure with someone he greatly admires and begins to care deeply for.
Soooooo apparently this is part of a series… which is amazing news!!
I loved the ending, not a major cliffhanger but I definitely do want to know where life takes them next. This book has been a real eye opener into the whole space genre for me. I am nowhere near ready to tolerate any Star Wars film yet but off I go to try to give Empress of a Thousand Sky's ago.
You can check out Claudia… HERE
Thank you NetGalley, Hot Key Books & Claudia Gray
---
Don't forget to share your thoughts
in the comments section below
& follow for more content
You can find my other reviews…. here
THANK YOU FOR READING
BOOKPOLAR
XXX