Red Sister Book of the Ancestor, #1 by Mark Lawrence
Release date; 4th April 2017
'Do not be deceived. No real fight is bound by four walls. No real fight ends at a particular doorway or when we wash off the sweat and the blood. Fights end with defeat. And death is the only defeat a warrior understands. While we draw breath we are at war with our enemies and they with us.'
This is only a mini review because… well, you will see.
The story centres around a young girl called Nona. After being rescued from hanging by a nun she now finds herself in the Sweet Mercy Convent…
Perfecting her powers and being trained in the art of killing.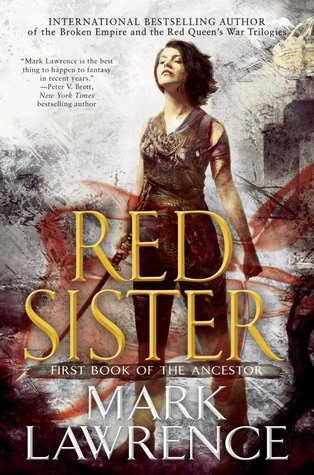 I was desperate to get my teeth into this book; after hearing the story line and reading the reviews but I just couldn't get to grips with it. I know that so so many of my fellow book-bloggers and book-reviewers absolutely raved about it. It wasn't the plot of the book or any major character flaws that were the issue, I just couldn't click with the writing style. I would go so far as to say I found it difficult to read.
I found the majority of the book not intriguingly mystifying but just annoyingly cryptic. If I was Nona I would be pulling my hair out; everyone speaking in riddles and telling half-truths constantly.
I desperately tried to carry on reading the book but sadly I gave up around the half way mark. I found myself reading a couple of pages and finding something better to do and began putting off read all altogether. So to fight the impending reading slump that was fast approaching I decided to cut my losses and bail.
Keep in mind I didn't finish but overall I found the general idea of killer nuns with powers genuinely exciting however the book was just to hard going for me and I put that purely down to my person taste.
Thank you NetGalley, Harper Collins UK & Mark Lawrence
---
Don't forget to share your thoughts
in the comments section below
& follow for more content
You can find my other reviews…. here
THANK YOU FOR READING
BOOKPOLAR
XXX